Why Wood?
In an era of modern, artificial materials, it has become difficult to explain to a young yachtsman why wood is today's best shipbuilding material. Wood has a number of significant advantages for small shipbuilding that other standard materials do not.
1 In relation to other standard naval materials, such as polyester resin, aluminium and even high-quality steel, wood has the highest quality coefficient. The quality coefficient of a construction material is the ratio between its strength and density. That means that a wooden boat will weigh less than one the same size same built to have the same strength. Or, in other words, between equally heavy constructions of the same size, the wooden one will have greatest strength. The higher the quality coefficient, the more suitable the material for building purposes, particularly for the things that need to be light, but strong, as are boats and planes. It is undoubtedly an important factor when choosing materials for shipbuilding.
2 Wood as a material is the most resistant to the so-called stress of materials. The stress of materials is the reduction of its strength as a consequence of intensive dynamic stress. While sailing, the structure of the boat is under constant dynamic impact of water and its own weight. Tests have shown that pieces of various materials put under dynamic pressure one million times over 30 hours will lose strength as follows: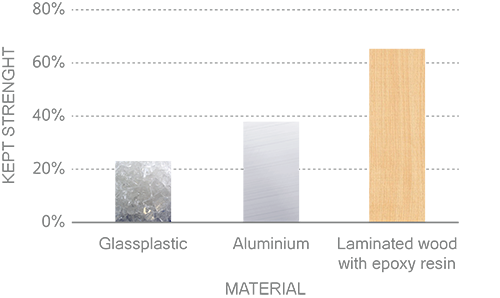 Glassplastic kept only 22% of original strength
Aluminium kept 37% of original strength
Laminated wood with epoxy resin kept 64% of original strength.
3 Wood has better thermal and acoustic characteristics than other materials, so there are no problems with condensation on the plating of interior walls. Galvanic characteristics are also ideal.
4 Aesthetic characteristics and the visual experience of staying on board surrounded by natural materials is, of course, subjective: but we challenge anyone to prefer white plastic to natural wood!
But doesn't wood require a lot of maintenance? It's true of traditionally-built boats, but not for boats made by the WEST technology. All wooden areas exposed to the external influences of sea and sun are protected by epoxy resin. Technically, dry wood conserved in that way maintains all its extraordinary characteristics, practically without aging, for decades, and the maintenance costs of such a hull are no higher than those of GRP.